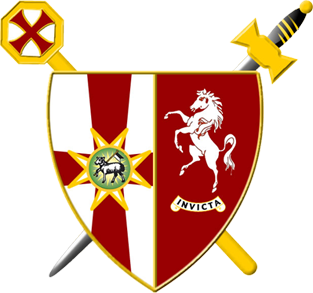 The United Religious, Military and Masonic Orders of the Temple and of St John of Jerusalem, Palestine, Rhodes and Malta in England and Wales and Provinces Overseas

Province of Kent

New Banner Dedication at Temple Ewell Preceptory and Installation of Provincial Sub Prior – 27th January 2020
On Monday 27th January 2020, a Knight Templar meeting was held at Temple Ewell Preceptory number 325 in the Province of Kent. The Provincial Prior, R. E.Kt. David Jordan together with his Bodyguard and Active Officers of the Province were in attendance for the purpose of Dedicating a New Banner to Temple Ewell Preceptory.




At the same meeting , Pieter Jan Swinge was Installed as the New Provincial Sub Prior for The Province of Kent.




Members of the Preceptory and the Active Provincial Officers were engaged in both ceremonies which were very ably organised and Marshalled by E.Kt. Kelvin Gane. Also in attendance was John Bonomy P.1st GT.Con, Banner Bearer for the dedication, Kessick John Jones KCT. P.Prov.Prior. as well as other well known Knights. A very happy occasion enjoyed by all in attendance.



---

< back